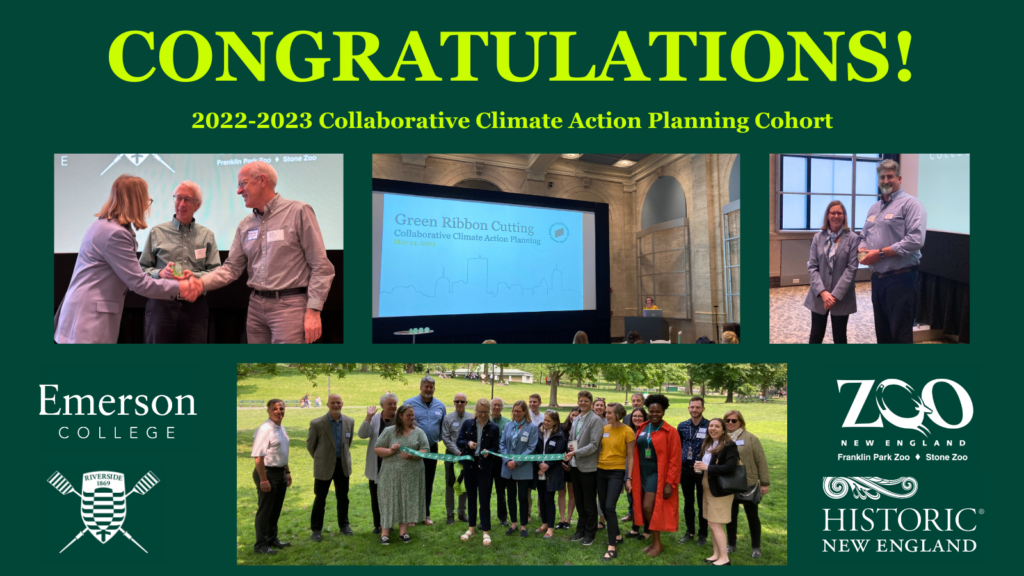 For the past two years, the GRC has offered a program on Collaborative Climate Action Planning (CCAP) to some of Boston's most prestigious cultural and educational institutions. The program is now being extended to all Boston organizations – from commercial real estate developers to hospital and healthcare institutions to large companies – this is a great way to jumpstart the climate action planning process without the need to initially engage an outside consultant.
Recently, we celebrated the graduation of our 2022/2023 cohort. There, we had the opportunity to mingle with cohort members and alumni, share best practices and learnings, and celebrate the amazing work each participant accomplished in the last year. Among the graduates were Emerson College, Riverside Boat Club, Zoo New England, and Historic New England. Each organization spoke about their experience with the CCAP process and their resulting climate action plans.
See summaries of the graduating institutions' climate action plans here
Applications are now open for Boston area organizations to enroll in our 2023/2024 CCAP cohort through June 30, 2023. Again, this fall's cohort is open to organizations in any sector and provides a highly cost-effective way to begin organizational strategic climate planning.