The Green Ribbon Commission accelerates Boston toward a climate safe, carbon free, equitable future
News
Report card notes progress in key areas and challenges ahead in reducing emissions
Coastal Districts, Collaboration In Forecast For 2024
A new Chief Coastal Resilience Officer will lead the ResilientCoasts initiative, which will establish new Coastal Resilience Districts based on climate change impacts
More news
GRC Members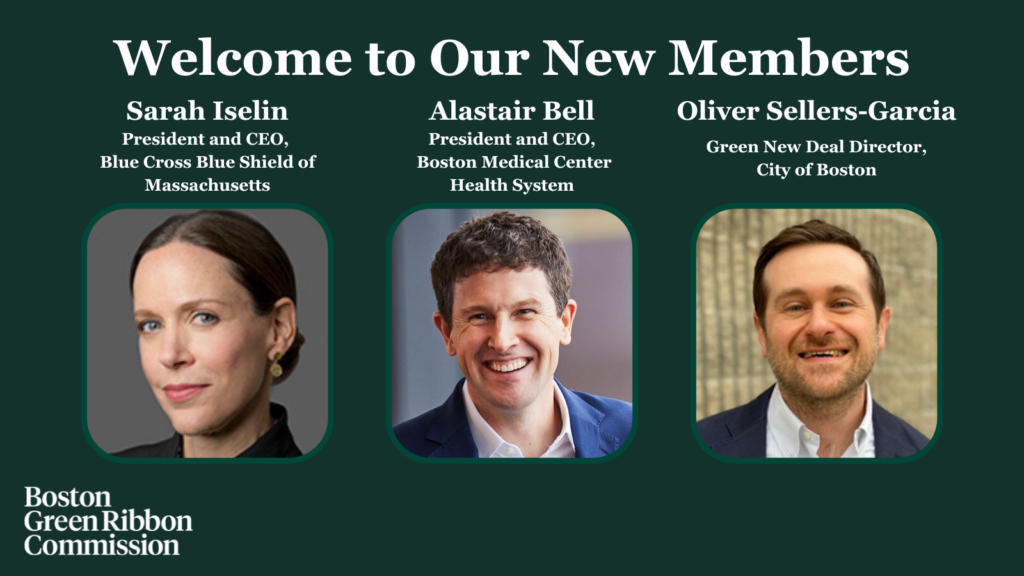 The GRC is pleased to welcome three new Members. Sarah Iselin, President and CEO of Blue Cross Blue Shield of Massachusetts, took the reins at the three-million member health insurer from GRC member Andrew Dreyfus at the beginning of 2023. Iselin is an experienced healthcare executive who earned her masters at the Harvard T.H. Chan School of Public Health, had multiple leadership roles at BCBSMA, and led implementation of the affordable care act for Governor Patrick. Alastair Bell, MD, MBA, President and CEO of the Boston Medical Center Health System (BMC), recently succeeded long-time GRC member Kate Walsh, now Secretary of Health and Human Services for the Commonwealth. As BMC's COO since 2012, he helped expand healthcare access for historically marginalized people. Oliver Sellers-Garcia, Boston's first Green New Deal Director and Senior Advisor to Boston Mayor Michelle Wu, works across all City agencies to ensure that climate is considered and advanced through strategies that address social, racial, and economic inequality.
Learn More
CLIMATE JUSTICE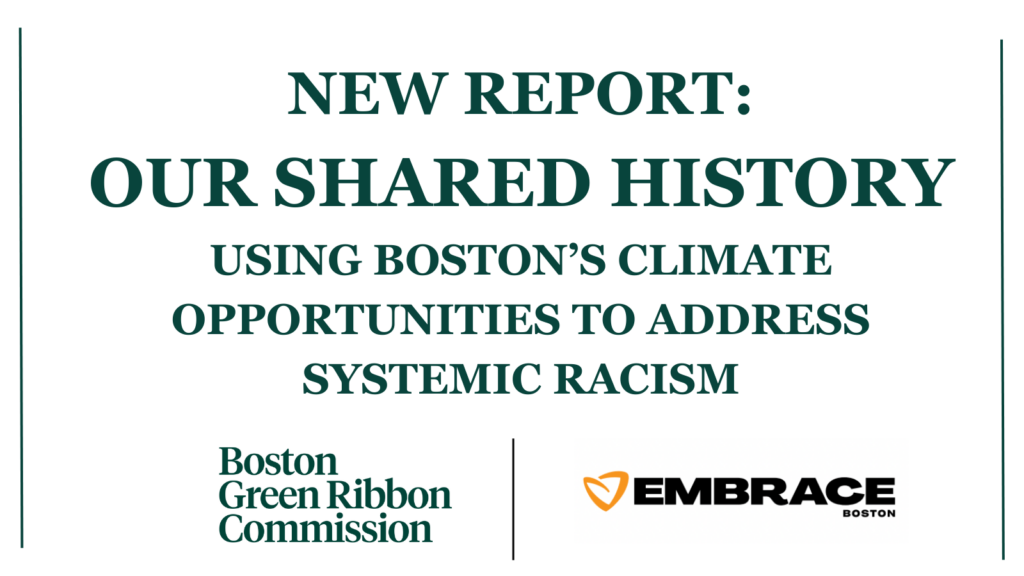 Completed in collaboration with Embrace Boston, GRC's "Our Shared History" report aims to open a dialog among a wide variety of stakeholders in Boston's future who hope to use the shift to a resilient post-carbon economy as an opportunity to eradicate the harms of racism embedded in our built environment. The report addresses three main topics: patterns of racial injustice, climate inequities, and equitable climate action opportunities. We are now in an era of systemic transformation of Boston, compelled by climate change. In creating this report, the GRC hopes the historical account will serve to inform our shared vision of progress.
Read the full report
Climate Disclosure
Learn More
REQUEST FOR INFORMATION

MassCEC is seeking to gauge interest and get input into potential neighborhood electrification demonstration projects. "Neighborhood electrification" is the strategic electrification of the building stock and decommissioning of the natural gas system in defined geographic areas – such as street segments, neighborhoods, or zones – that leverage opportunities where electrification could be more cost-effective than reinvestment in the gas system (e.g., pipeline repair). MassCEC welcomes responses from all stakeholders – in particular, perspectives from utilities, municipalities, large landowners (e.g., universities or affordable housing owners), technical experts, legal/regulatory experts, community-based organizations, and advocacy organizations.

Learn More and Provide Input