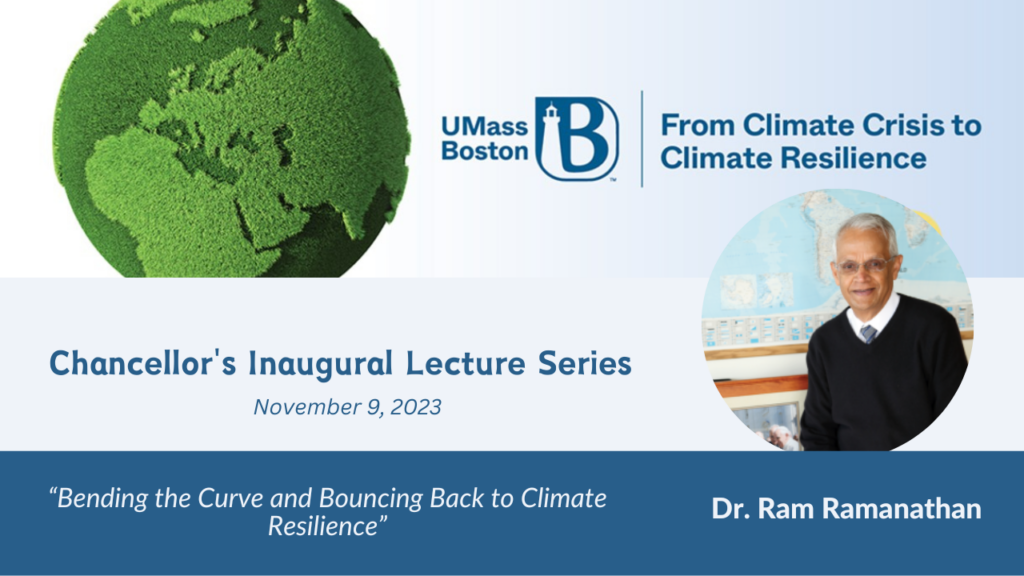 Sustainable Solutions Lab at UMass Boston
"Bending the Curve and Bouncing Back to Climate Resilience"
Dr. Ram Ramanathan
Distinguished Professor Emeritus of Climate Sustainability at Scripps Institution of Oceanography & Climate Solutions Scholar, Cornell University
November 9, 2023
Campus Center, Ballroom, University of Massachusetts Boston
Reception, 2:30–2:45 p.m.
Lecture and Discussion, 2:45–4:30 p.m.
Other featured panelists, experts and scholars:
Gina McCarthy, Former White House Climate Advisor; UMB Alum
Reverend Mariama White-Hammond, Chief of Environment, Energy, and Open Space, City of Boston
Melissa Hoffer, Massachusetts Climate Chief, Office of Climate Innovation and Resilience
Kannan Thiruvengadam, Director, Eastie Farm & Loeb Fellow
Sommer Heyman, UMass Boston UG Student BS Environmental Science & Community Development
Climate change morphed into climate crisis this year, giving us a peek into a world that is warmer by 1.5°C. The rise in temperature will cross the 1.5°C threshold by the early 2030s and will most likely get worse for at least another few decades, even assuming the most optimistic solutions for bending the emissions curve.
A new trans-disciplinary approach is needed to make people and ecosystems resilient to climate stress. The new approach, developed in partnership with the Vatican's science academies, is built on three pillars: mitigation, adaptation, and societal transformation. The approach will be field- tested in partnership with mayors and governors from around the world, who will be convened at the Vatican in a summit. Chancellor Marcelo Suárez-Orozco and Dr. Ramanathan are co-leading this effort on behalf of the Vatican science academies.
If you have questions, please contact: Allison.Novelly@umb.edu.
If you are unable to attend the event in person, you are welcome to join via YouTube.