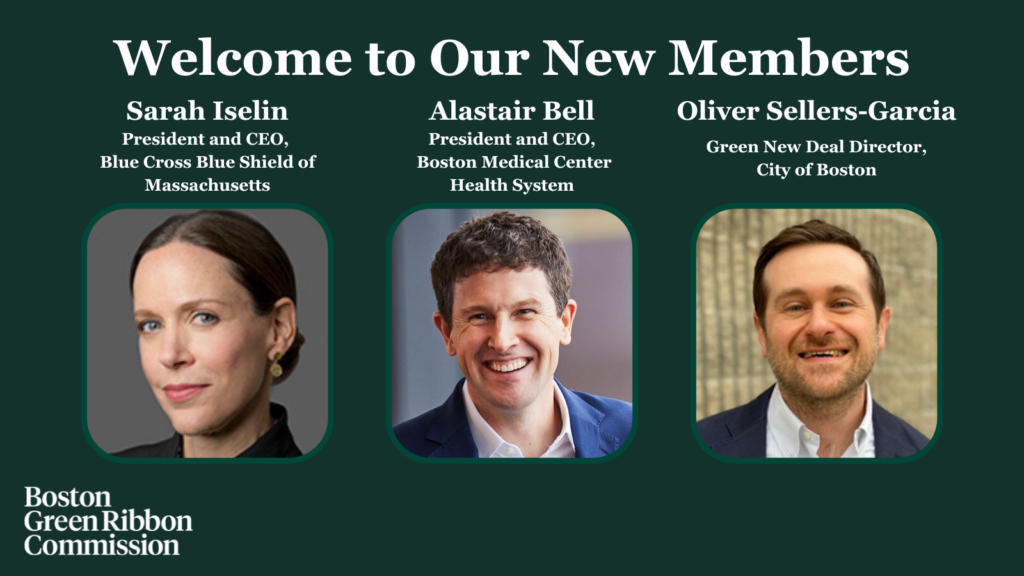 The GRC is pleased to welcome three new Members.
Sarah Iselin, President and CEO of Blue Cross Blue Shield of Massachusetts, took the reins at the three-million member health insurer from GRC member Andrew Dreyfus at the beginning of 2023. Iselin is an experienced healthcare executive who earned her masters at the Harvard T.H. Chan School of Public Health, had multiple leadership roles at BCBSMA, and led implementation of the affordable care act for Governor Patrick. Most recently Iselin was COO of Blue Shield of California. In 2022, BCBS made a five-year commitment of more than $15 million to environmental, racial, and food justice in Massachusetts; the organization also signed the White House's Health Sector Climate Initiative Pledge to reduce greenhouse gas emissions 50% by 2030.
Alastair Bell, MD, MBA, President and CEO of the Boston Medical Center Health System (BMC), recently succeeded long-time GRC member Kate Walsh, now Secretary of Health and Human Services for the Commonwealth. Bell received his MBA from Harvard Business School and previously worked in healthcare strategy at McKinsey. As BMC's COO since 2012, he helped expand healthcare access for historically marginalized people. BMC – a climate innovator and also signatory to the White House Pledge – moved early to secure renewable energy, cut carbon, build resiliency into its campus, and, more recently, open a net-zero behavioral health center in Brockton, while focused on improving the health of patients who are disproportionately exposed to environmental hazards.
Oliver Sellers-Garcia, Boston's first Green New Deal Director and Senior Advisor to Boston Mayor Michelle Wu, has been named a member of the GRC. Sellers-Garcia's new position mirrors that of GRC member Melissa Hoffer, who serves in the Healey Administration as Massachusetts' first Climate Chief. Sellers-Garcia serves in the office of the Mayor and works across all City agencies to ensure that climate is considered and advanced through strategies that address social, racial, and economic inequality. After earning a Masters in City Planning from MIT, Sellers-Garcia's prior roles include Director of Resiliency and Equity at the MBTA and Director of Sustainability and Environment in the City of Somerville.